« Let's visit another city, too, Pleeeeeeeez!
Munich, Germany
What would you do if u were here?




Munich's most famous city symbol is near the "Marienplatz". "Frauenkirche" (The Church of Our Lady)
has two onion-shaped domes.




Munich is one of Germany's largest cities!

Munich is located along the Isar River.

Approximately 1,350,000 people live in Munich!

Munich is famous for its annual "Oktoberfest"!

The German language is spoken in Munich!

The German name for Munich is München!






| | |
| --- | --- |
| If you were here, we could see the magnificent glockenspiel in the new town hall at the Marienplatz (Saint Mary's Square). This very impressive glockenspiel has 43 bells and 32 life-sized figures! It chimes every day at 11 am, and in the summer it also chimes at 12 noon and again at 5 pm. You would really enjoy seeing it! The bells and the life-sized figures act out two stories from the 16th century. Even though that is 500 years ago, these stories still hold the attention of today's visitors. What kinds of stories hold your attention? | |

This is the Glockenspiel in the new Town Hall.
Oktoberfest
will hold your attention! Do you like fairs?
Oktoberfest

is a huge fair which is held each year in Munich. It lasts for two weeks, and more than 6 million people go to it! If you were here during Oktoberfest, we could have some fun there, and maybe we could even find some hotdogs to make us feel right at home! Do you know that America's famous hot dogs originated in Germany! It's true! The hot dog or
"frankfurter"
is a
"wurst"
from the German city of
Frankfurt am Main?
Germans are famous for their "wursts" and they have a lot of them, even "white" ones which are very famous in Munich! They also have BIG pretzels, but a pretzel is called a
"Bretzel"
in Germany! The German spelling for pretzel is not really that much different from the English spelling, is it? How is it different, and would you eat one anyway? By the way, did you also notice that the German spelling for October in Oktoberfest is different from the English spelling? I knew you would notice that! Finally, here is one more fact about Oktoberfest. It does not begin in October. It begins at the end of September. It does, however, end in October, and it would be fun to visit together, if you were here!
Attention! When you visit the
Deutsches Museum

in Munich you may not want to leave! The museum is located on an island in the middle of the Isar River which runs through Munich. There is so much to do at this museum! In fact, you could actually spend days there without getting bored! They have many, many sections and exhibitions to see as well as interesting daily demonstrations and special events! You can choose your own tour from at least 30 different subject areas. Want to know what holds the world together? You can learn about that and much more at the Deutsches Museum! It's fun! You can even go to school at the museum, or go to a concert or a lecture! Would you like to take part in the making of a film? Take a look at some of the experiments as well as some of the films that children have made
here
.

It looks as if they are having lots of fun learning new things, doesn't it? We could have fun, too, if you were here . . . .

There are three outstanding museums here, the Alte Pinakothek, the Neue Pinakothek, and the Pinakothek der Moderne

!

"Pinakothek" is German for "art gallery". I am sure that you know what "Alte", Neue", and "Moderne" mean so I don't have to tell you that!

Of course, we might also hear the Munich Philharmonic in concert. Or we could see an operatic performance at the Bavarian State Opera Company. Would you like to sit in the "Königsloge" with me? That's really special seating which means the King's box!


Love, Oma
~~~

Help SOMEONE you know learn about this famous place!
Click on the gamecard postcard below to place your order,
and Heckery Dekkery Dot will send it on its way to help YOU get the travel game underway!


It's FUN! And, it's EDUCATIONAL, too!

Who will win?

Everyone wins when children learn more about the world around them!

~~~

Thank You:
http://www.britannica.com
http://kids.britannica.com
Britannica and Britannica Online for Kids are excellent resources for information.

http://unabridged.merriam-webster.com

A special thank you goes to my daughters Alicia and Janella for their valuable input and to my husband Barthold, to Eveline, and to the Damen der Englisch-Gruppe in Marburg for their help with the German translations.

~~~

All photos on this site were taken by me on my travels unless otherwise indicated.

~~~
Please ask a parent or another grownup to travel with you whenever you visit on-line sites.
It's much more fun than traveling alone!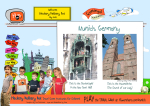 Zoom

Munich, Germany - (1) How much do you know about Munich, Germany?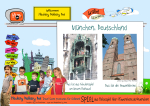 Zoom

Munich, Germany - (2) Was weißt du über München?