« Let's visit another city, too, Pleeeeeeeez!
Venice, Italy

founded in the 5th century
This is the Grand Canal.

Venice is built on a lagoon!

Venice is made up of more than 100 islands.

There are lots of boats in Venice, but where are the cars?
If you were here, we could ride in a gondola! A gondola is a long, skinny boat which has an upward curve at the front as well as at the back. The driver of the gondola stands at the back and rows, and sometimes he will serenade his passengers with Italian songs. This can be very romantic, but you probably aren't much interested in romance, are you?

Gondolas on the Grand Canal in Venice
In fact, you would probably find the many canals and bridges in Venice a lot more interesting than romance! And, if you were here, we could sail on the main canal which is appropriately called the Grand Canal. Would you like to do that? We could also cross the Grand Canal by foot on one of Venice's most famous bridges, the Rialto Bridge !

| | | | |
| --- | --- | --- | --- |
| As you might have guessed by now, transportation in Venice is mostly by water! And, although the gondola has become synonymous with Venice, you will also see motor boats, water taxis, and even police speed boats! The water bus is a very common source of public transportation, too. It is called a vaporetto, and it can carry a lot of passengers. | | | Speed Boat on the Grand Canal! |
ATTENTION!!!
Back on solid ground, the "pigeons" on the main plaza, Piazza San Marco, will undoubtedly catch your interest!
DOMES – Basilica di San Marco

"Are those 'onion' domes, Cédric"?

Mmmm, not exactly little Robért. Although the CUPOLAS of Saint Mark's Basilica are based on eastern Byzantine models, they don't bulge out over their base the way onion domes do".

"Hmmm . . . . Are there garlic domes, Cédric"?­





Of course, the Basilica di San Marco

and the Palazzo Ducale

(the duke's palace) which are also located on the Piazza San Marco

are important sites to see. A bridge connecting the palace to the prison is called the Ponte Dei Sospir i ,

the Bridge of Sighs. It was so named after the "sighs" of the prisoners who used to cross over it. There is also a famous bell tower called the Campanile.

And, there are lots of cafes where we could take a little break if you were here!
Venetian glass is famous world wide. From very simple figurines to beautiful pieces of jewelry to elaborate chandeliers, Venetian glass is truly unique. Made on the island of Murano, it is hand blown, and at certain times of the day you can actually see the artists at work. It is really interesting to watch them, too!




Candy? Oh, no!
Don't eat it! It's Venetian Glass!
Would you like to accompany me to the famous theater La Fenice? Maybe we could see an opera or a concert or a ballet! Lots of famous artists perform at La Fenice!

And, many people from all over the world travel to Venice for the Venetian carnival costume balls. We could "dress up", put on a "mask", and go, too, if you were here! It might seem a bit like Halloween to you, but it takes place right before the Christian celebration of Lent, usually in February or March, not at the end of October!


Love, Oma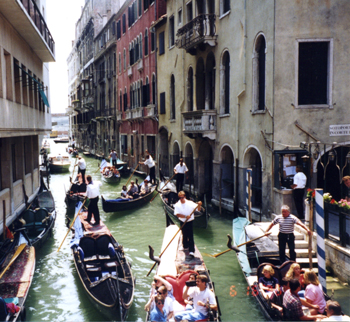 Venetian Traffic Jam!


~~~

Help SOMEONE you know learn about this famous place!
Click on the gamecard postcard below to place your order,
and Heckery Dekkery Dot will send it on its way to help YOU get the travel game underway!


It's FUN! And, it's EDUCATIONAL, too!

Who will win?

Everyone wins when children learn more about the world around them!


~~~

Thank You:
http://www.britannica.com
http://kids.britannica.com
Britannica and Britannica Online for Kids are excellent resources for information.

http://unabridged.merriam-webster.com
A special thank you goes to my daughters Alicia and Janella for their valuable input and to my husband Barthold, to Eveline, and to the Damen der Englisch-Gruppe in Marburg for their help with the German translations.


~~~

All photos on this site were taken by me on my travels unless otherwise indicated.

~~~

Please ask a parent or another grownup to travel with you whenever you visit on-line sites.
It's much more fun than traveling alone!