« Let's visit another city, too, Pleeeeeeeez!
Lewistown, Pennsylvania
where I was born , , , ,




The Old Court House on Monument Square

About 9,000 people live in Lewistown.

Lewistown was settled in 1790, and it was called the Village of Ohesson.

Lewistown was renamed after William "Bill" Lewis because it was his idea to designate Lewistown as the county seat of Mifflin County.

Lewistown received the All-American City award in 1973!

Congratulations, Lewistown!
I was born in Lewistown, Pennsylvania. A move to nearby Burnham followed when I was ten, and I grew up there. I still come back to visit as often as I can and even lived in Lewistown as an adult for several years back in the late 60's and early 70's. I "reckon", then, that the Lewistown area is home.
Probably like most hometowns, they are not really fully appreciated until you move away from them for a while. The friendliness of the people, the natural beauty of the area, and the rich experiences which helped to shape you are things that stay with you wherever you go, however! I have fond memories of this area in Central Pennsylvania, and if you were here, I could share them with you!

| | | | |
| --- | --- | --- | --- |
| | I remember spending Saturday afternoons watching movies with my friends at the Embassy, the Rialto and the Miller theaters. Afterwards, we would sit in a wooden booth at Laskaris Restaurant on Monument Square and would order chilidogs, fries with ketchup or vinegar, and vanilla, chocolate or cherry cokes. Then, we would catch the bus back home. | | |

We could see a movie if you were here . . . . Only one theater is left, but it can now show six different movies! And, although the Rialto is only a memory, the Embassy

is being restored.
Yes! Of course, after the movie, we could go to Laskaris Restaurant for a chili dog, too! I'm getting hungry! Are you?
There were "sock hops" at the YMCA in Burnham, and in the summer, there was the occasional pool-side "splash hop" at the Kish pool! Sometimes, regulars from Dick Clark's American Bandstand were invited to make personal appearances at the splash hops. My friends and I used to watch American Bandstand faithfully every weekday after school so that we could learn the newest dances. We even traveled to Philadelphia once to appear on the popular dance show! A hop, by the way, was what we called a dance.
I attended Chief Logan High School. When I was growing up, there were four high schools in the Lewistown area, Lewistown-Granville, Chief Logan, Kishacoquillas and Rothrock. For a short time all four schools combined to become Penn Highlands. Then, Chief Logan and Kishacoquillas made up Indian Valley High School, and Lewistown-Granville and Rothrock made up Lewistown High School. I wonder if Indian Valley had the same enthusiastic football rivalry with Lewistown as Chief Logan did! Today, the four schools are together again as Mifflin County School District.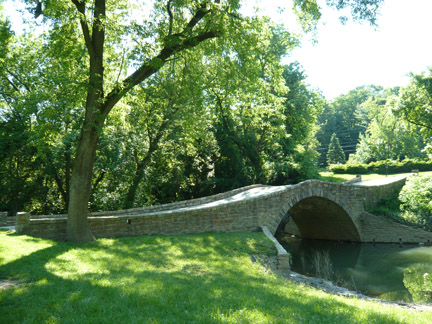 Stone Arch Bridge

If you were here,I would show you the old Stone Arch Bridge. It was built in 1813, and it is the oldest single stone bridge in Central Pennsylvania. Wait until you see it! You will find it hard to believe that it was once part of the Pennsylvania Turnpike between Harrisburg and Pittsburgh, but it was! By the way, I almost forgot to mention that the bridge was built without a keystone. What's that? A keystone is the piece of the bridge which is inserted last at the top of the arch, and it locks all of the other pieces in place. It is shaped a bit like a piece of pie with the first bite missing! Mmmm! I hope the old Stone Arch Bridge continues to hold!
The McCoy house is now the home of the Mifflin County Historical Society Museum. It is located on North Main Street, and it was the birthplace of soldier-statesman Major General Frank Ross McCoy. We could visit this museum, if you were here!

On Wednesday, we could visit the Amish Farmers Market in nearby Belleville where we could buy baked goods, all of our food for the week, plants and flowers, handcrafts, and even a cow, a horse or a pig! Someone told me that people come from all over to this BIG market. I think that you would find it interesting, and if you would like to learn more about the Amish, you can do so by clicking on the mouse here!



On Sunday, we could visit the little church on South Main Street where I was a member from before I was old enough to remember until I moved away from home. Your great grandmother still attends services there, and your great grandfather was superintendent of the children's Sunday school at one time. While I was in high school, I was the church organist, too.
There are so many memories that I could share with you . . . .
After church, I could show you the apartment where I lived from the time I was a baby until I was four years old. Believe it or not, it's still there! I could show you where I met Aunt Jemima, too! She was serving pancakes! YUM! They were really good! Today they sell cars at that location, but it used to be a grocery store called Rocco's.
Correct! You are right! The car will have to wait, but I would make you some pancakes if you were here!
The Monument on Monument Square, which is located in the center of downtown Lewistown, was built to pay tribute to Mifflin County's soldiers and sailors of the Civil War. In 1969, the monument was rededicated to honor veterans of all wars. It is 64 feet and 6 inches high, and it is made of Vermont marble. On each side of the monument are statues representing the four branches of the military at the time of the Civil War, 1860 – 1865. They were the Navy, the Infantry, the Cavalry, and the Artillery. Did you know that a stone at the base of the monument came from Abraham Lincoln's tomb? Neither did I! It is a special stone because it is the only stone ever to have been removed from Lincoln's tomb. I will have to go see it the next time I visit Lewistown! Want to come with me?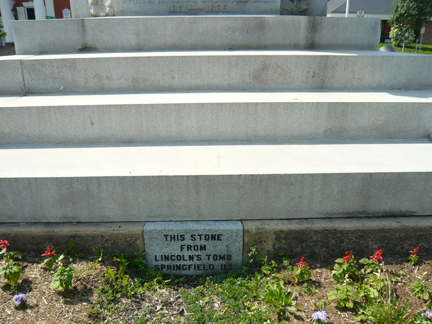 There is another site which I have not seen yet, but I plan to visit soon. It's the historic Pennsylvania Canal!

The canal dates back to 1829. Most of the canal has deteriorated, but a one and a half mile section was recently restored near the Locust Campground. It is right off the highway on a stretch that is referred to as the Lewistown "Narrows", and when you see it you will understand why! We could take a boat ride along this restored section of the canal, if you were here! They say that it is the same route that Mark Twain and Abraham Lincoln once traveled! Would you like to come with me? I think it could be fun!

So, look around your hometown. Do you sometimes think it's boring? Think about the things you enjoy doing there and the people who live there, too; a neighbor, a teacher, or maybe your best friend . . . . Then, go out and have some fun. You'll have fond memories later!

Love, Oma
~~~

Help SOMEONE you know learn about this famous place!
Click on the gamecard postcard below to place your order,
and Heckery Dekkery Dot will send it on its way to help YOU get the travel game underway!


It's FUN! And, it's EDUCATIONAL, too!

Who will win?

Everyone wins when children learn more about the world around them!


~~~

Thank You:

www.juniatarivervalley.org/images/visitorsguide_new.pdf

www.embassytheatre.org

http://kids.britannica.com
Britannica and Britannica Online for Kids are excellent resources for information.

en.wikipedia.org/wiki/Lewistown,_Pennsylvania

http://unabridged.merriam-webster.com

A special thank you goes to my daughters Alicia and Janella for their valuable input and to my husband Barthold, to Eveline, and to the Damen der Englisch-Gruppe in Marburg for their help with the German translations.

~~~

All photos on this site were taken by me on my travels unless otherwise indicated.

~~~
Please ask a parent or another grownup to travel with you whenever you visit on-line sites.
It's much more fun than traveling alone!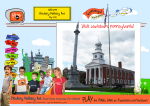 Zoom

Lewistown, Pennsylvania - (1) The Old Courthouse on Monument Square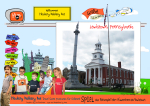 Zoom

Lewistown, Pennsylvania - (2) Der Gerichtshof am Monument Square