« Let's visit another city, too, Pleeeeeeeez!
Philadelphia, Pennsylvania
founded October 27, 1682
by William Penn
"That crack in the Liberty Bell should be fixed! I think I'll ask my loving brother to help me repair it"!

About 1.5 million people live in Philadelphia!

Philadelphia is the largest city in the state of Pennsylvania!

Philadelphia is the 5th largest city in the United States!

Philadelphia's nickname is "The City of Broth­­erly Love"!
How did Philadelphia get that nickname? "I don't know! It's Greek to me"! AND, guess what? It is Greek!
| | |
| --- | --- |
| | Skyline of Philadelphia |
The Liberty Bell has long been linked with freedom and, of course, with the Declaration of Independence.
Legend

has it, as the story goes, that the Liberty Bell cracked because it was rung so long when independence was declared on July 4th, 1776. Today, historians highly doubt that the Bell actually rang in 1776 because the steeple which housed it in the tower of Independence Hall was in really bad condition. The legend, however, remains to this day! Although no one knows exactly when the Bell cracked for the first time, it is agreed that the final ringing of the Bell was on George Washington's Birthday in 1846 when it cracked beyond repair.
Read more about it here.

Be sure to take a look!
Today, the Liberty Bell has a home in
The Liberty Bell Center

which is located at Market Street & 6
th
, and
if you were here
,
we could see it together!
And, did you know that . . . .
On every Fourth of July, at 2 pm Eastern time, children who are descendants of signers of the Declaration of Independence symbolically tap the Liberty Bell 13 times while bells across the nation also ring 13 times in honor of the patriots from the original 13 states.
Taken from:

And, would you also like to hear how the Liberty Bell sounded?
You can listen to it
here
!

Go ahead!
Ring it!


But, what else can we do in Philadelphia?

Well, let's see . . . .


No visit to Philadelphia would be complete without a visit to Independence Hall. Both the Declaration of Independence and the Constitution of the United States were signed there, and the bell tower steeple of Independence Hall was the original home of the Liberty Bell.


Then, of course, there is the Franklin Institute which was founded in 1824 in honor of Benjamin Franklin. Have you heard of Benjamin Franklin? What did he do in Philadelphia?



A. He flew a kite to learn about electricity.
B. He was a funny guy, a humorist!
C. He was a scientist and an inventor.
D. He was a printer.


E.

All of the above!


The Answer is E. Ben Franklin did all of these things and much more!

Is that Darth Vader on the
clock tower of City Hall?

It's William Penn!
William Penn was the founder of Pennsylvania.
You can learn more about Benjamin Franklin
here
.

You can also play some games at this site.
And, have you heard of Betsy Ross?
What do you think she did in Philadelphia?
A. She tried to mend the crack in the Liberty Bell, but failed.
B. She was born in Philadelphia.


C. She made the first American flag.


D. None of the above.
E. All of the above.
The answer is C! Betsy Ross is known for making the first American Flag!
Born in New Jersey, Betsy Ross moved to Philadelphia with her family when she was only three years old. You can visit the Betsy Ross house
online
,

but
if you were here,
we could see it together at 239 Arch Street, which is very close to Independence Hall and the Liberty Bell.
And, there's much more that we could do, too . . .
if you were here,
Would you like to visit
Elfreth's Alley
!

We could go for a walk there and visit the
Elfreth's Alley Museum
,

if you were here
. The street itself is not very long, but it has been a street for over 300 years! That's a very long time, and it makes Elfreth's Alley one of the
oldest
continuously inhabited streets in the United States!
How old is the street where you live?
By the way, we could visit the
zoo,

too,
if you were here!
There's an amazing
art museum
!




The Philadelphia Museum of Art
That's George Washington on the horse by the way!
And, although we must be very quiet when we go to the
opera

and to the
symphony orchestra
,

w
e can make noise later when we visit the
Please Touch Museum
.

Oh! We could have lots of fun in Philadelphia!
Last, but certainly not least, if you like sports, Philadelphia has several professional athletic teams. Baseball fans can visit the
Phillies
,

and football fans can visit the
Eagles
.

If you like hockey, check out the
Flyer
s
,

or if basketball is your favorite, then the
76ers

is for you!
Whatever you decide, have a great time when you visit Philadelphia!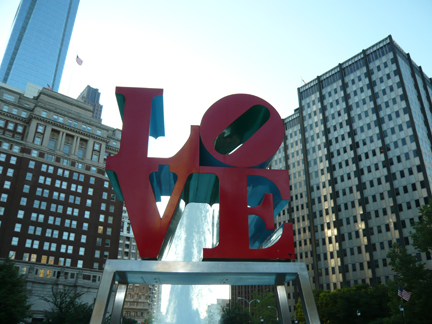 The Robert Indiana sculpture in John F. Kennedy Plaza
Other Philadelphia attractions include:
And, nearby:
~~~

Help SOMEONE you know learn about this famous place!
Click on the gamecard postcard below to place your order,
and Heckery Dekkery Dot will send it on its way to help YOU get the travel game underway!


It's FUN! And, it's EDUCATIONAL, too!

Who will win?

Everyone wins when children learn more about the world around them!


~~~

Thank You:
http://www.britannica.com
http://kids.britannica.com
Britannica and Britannica Online for Kids are excellent resources for information.

http://unabridged.merriam-webster.com

Wikipedia, The Free Encyclopedia, http://www.wikipedia.org

http://www.ushistory.org/libertybell/

A special thank you goes to my daughters Alicia and Janella for their valuable input and to my husband Barthold, to Eveline, and to the Damen der Englisch-Gruppe in Marburg for their help with the German translations.

~~~

All photos on this site were taken by me on my travels unless otherwise indicated.

~~~

Please ask a parent or another grownup to travel with you whenever you visit on-line sites.
It's much more fun than traveling alone!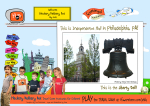 Zoom

Philadelphia, Pennsylvania - (1) The City of Brotherly Love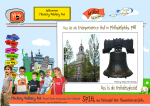 Zoom

Philadelphia, Pennsylvania - (2) Die Stadt brüderlicher Liebe