« Let's visit another city, too, Pleeeeeeeez!
Chicago, Illinois
"The Windy City"
"Why is Chicago called 'The Windy City', Cousin Eugene"? "They say it comes from too much boasting and bragging by local politicians, Cousin Isabel, but have you ever felt the winter wind in Chicago?"


"Brrrr"





Chicago was founded in 1833.

About 2,875,000 people live in Chicago!

Chicago is the 3rd largest city in the United States!

Chicago is your kind of town!
Location, location, location . . . .
Chicago's location between the two most important freshwater systems in North America,
the Great Lakes
and
the Mississippi "can-you-spell-it-fast?" River
made Chicago a very important transportation hub.


Of the five Great Lakes, on which one is Chicago situated?

A. Lake Superior
B. Lake Huron
C. Lake Michigan
D. Lake Erie
E. Lake Ontario



The answer is

C

!

Chicago is situated on Lake Michigan, the third largest of the Great Lakes.



Chicago Skyline
Photo donated by Jeanne, Mario, Mahli and Quinnlin
Naturally,
then, one of Chicago's most
natural
attractions is its lakefront and the many parks which line it, and
if you were here
,
we could explore them together!
And, did you know this about Chicago?
Mrs. O'Leary's cow was blamed for causing The Great Chicago Fire when it kicked over a lantern in the barn! The fire, which burned for two days, destroyed much of the city in October, 1871. Finally, 126 years later, on October 7, 1997, Mrs. O'Leary's cow was pardoned from any wrong doing by the Chicago City Council!
George Ferris created the Ferris Wheel for the World's Columbian Exposition, also called the Chicago World's Fair, which was held in Chicago in 1893. This Ferris Wheel was huge! It had a total of 36 cars, and each car could hold 60 people! That's a total of 2,160 people at a time! Can you imagine! - Famous Firsts from the fair
But, what is happening today in Chicago?
At
Shedd's Aquarium,

which includes
Oceanarium,
the world's largest indoor marine mammal pavilion, we could see dolphins, otters, and beluga whales! We could also see penguins and
pentamerous echinoderms,
if you were here
.
PENTAMEROUS ECHINODERMS!
YIKES!!
What are they?
Well, have you ever seen a sea star or a sea urchin? They belong to this group of spiny-skinned marine animals that have a five-part body design.

We could also do a little exploring! Would you like to discover the Universe at the
Adler Planetarium and Astronomy Museum

with me?
And,
Lincoln Park Zoo,

one of the oldest in the country, is open 365 days a year free of charge! We would have a good time there, too!
Culture Shock!
We could visit the children's museum
if you were here!
Chicago Children's Museum,

is a special place where you can learn
and
have fun at the same time! Chicago has an art museum, too! Visit Visit
The Art Institute of Chicago

where exhibitions, games, puzzles, and a children's library await! And,
WOW
,
the
Chicago Symphony Orchestra

and the
Lyric Opera of Chicago

have programs for
"kids"
too! That's a lot of Culture!
WHOA! THAT'S EXTRAORDINARY!

Wow! It's huge! Look! You can see yourself in it! That's cool, but what is it?

It's an extraordinary sculpture in Millennium Park called "Cloud Gate", and it was made by Indian sculptor Anish Kapoor. The people of Chicago have nicknamed it "The Bean", and if you would like, you can see some totally cool pictures of it online. Take a look

!

I think you're really going to like it! You can also learn about sculptor Anish Kapoor, at his website.

Discover other exciting things at Millennium Park, too!



Cloud Gate in Millennium Park
Thanks Jeanne, Mario, Mahli and Quinnlin for this wonderful photo!
Take me out to the Ball Game. . . .
If you like baseball, be sure to visit Wrigley Field which, built in 1914, is one of the oldest baseball parks in the United States! The Chicago Cubs, a professional baseball team, play at Wrigley Field. The White Sox (Don't get yours' dirty!) are also a professional Chicago baseball team. If you like football, you might want to see a Chicago Bears game. Hockey, anyone? See the Blackhawks in action! And, if it's basketball you like, the Chicago Bulls may interest you!
Observe more of Chicago . . . .
We could see for miles around from the
John Hancock Observatory

and the
Willis Tower Skydeck

if you were here!
Take a look! What do you see?
Wait a minute! You haven't seen it all! There's much more to observe and more "fun" things to do in Chicago!
Visit the city of Chicago's
official site

and
Chicago Traveler

for more exciting things to do in Chicago.
Bonus Question!
The following Great Lakes are listed according to size, but one does not belong? Which one does not belong?
A. Lake Superior; B. Lake Huron; C. Lake Michigan; D. Lake Erie; E. Lake Ontario; F. Lake Inferior.


~~~


Help SOMEONE you know learn about this famous place!
Click on the gamecard postcard below to place your order,
and Heckery Dekkery Dot will send it on its way to help YOU get the travel game underway!


It's FUN! And, it's EDUCATIONAL, too!

Who will win?

Everyone wins when children learn more about the world around them!


~~~

Thank You:
http://www.britannica.com
http://kids.britannica.com
Britannica and Britannica Online for Kids are excellent resources for information.

http://unabridged.merriam-webster.com

http://www.iht.com/articles/1997/10/10/topics.t_8.php

http://www.corsinet.com/chicago/chicagot.html

A special thank you goes to my daughters Alicia and Janella for their valuable input and to my husband Barthold, to Eveline, and to the Damen der Englisch-Gruppe in Marburg for their help with the German translations.

~~~

All photos on this site were taken by me on my travels unless otherwise indicated.

~~~
Please ask a parent or another grownup to travel with you whenever you visit on-line sites.
It's much more fun than traveling alone!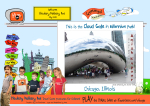 Zoom

Chicago, Illinois - (1) "The Windy City" It's your kind of town!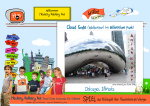 Zoom

Chicago, Illinois - (2) "Die windige Stadt