« Let's visit another city, too, Pleeeeeeeez!
New York, New York

New York City was the capital of the United States
from 1789 - 1790.

"Wow, Little Danny! The "BIG APPLE"! There is so much to see and so much to do! We can't possibly do it all on our own! We need your help, Cousin Isabel"!

"No problem, Cousin Eugene"!

New York City is located in New York State!

New York City is the largest city in the United States!

More than 8 million people live in New York City!

Central Park has a "central" location in New York City!

Hundreds of modern

skyscrapers make up New York City's famous skyline!

New York City is called "the city that never sleeps"!

New York City is also called the "Big Apple"!
| | | |
| --- | --- | --- |
| | If you were here, we could see New York City together! In fact, there are so many things to see and so many things to do in New York City that I may have trouble doing all of them on my own! It's no wonder New York City is nicknamed "The city that never sleeps" . . . . | |
Did you know that New York City was once called New Amsterdam? It was named by the Dutch who bought it from the Algonquin Indians in 1626 for about $24 in traded goods. It was renamed New York by the British in 1664. Located at the southern most tip of New York State where the New York Bay, the Hudson River and the East River come together, New York City thrived in early times as a result of its prime location. Today, it is one of the world's most important harbors.

If you were here, we could take a look around the neighborhood. There are lots of them! New York City is made up of five boroughs, Manhattan, Brooklyn, the Bronx, Queens, and Staten Island, and together they make up more than 100 neighborhoods, each with its own identity! As a matter of fact, they are so diverse that from one neighborhood to the next it may seem as if we are visiting another country! This diversity adds flavor and color to the cultural flair of New York City, and if you were here, we could experience this diversity together!

We could visit one of New York City's many parks, too, if you were here. There are more than 1,700 parks and recreation areas in New York City! Central Park is the most well known, however. Started in the 1800's, it took 20 years to finish it! Today, its many paths, lakes and wooded areas still offer a relaxing contrast to the hustle and bustle of the city.



I know that you would like to see the Statue of Liberty. It was a gift from the French people in 1886 and it stands in New York Bay. The French named the statue Liberty Enlightening the World, and it has become a symbol of freedom in the United States as well as all over the world. We could also visit Ellis Island which is located near the Statue of Liberty. From 1892 until 1954 it was the door for immigrants entering the United States of America for freedom and for a better life.

The Statue of Liberty

Photo by Derek Jensen

(

Tysto)
This photo is in the public domain worldwide.
Wikimedia Commons

At Rockefeller Center in Manhattan, we could go to Radio City Music Hall.

It seats nearly 6,000 people which makes it one of the largest theaters in the United States! Let's go early! I don't want the last seat! Do you?

The headquarters of the United Nations and the Empire State Building, which is a very famous skyscraper, are also well-known places to see in New York City. The Empire State Building is the tallest building in the city. It reaches 1,250 feet (381 m) high!


The World Trade Center Towers were New York City's tallest skyscrapers, but they were completely destroyed on September 11, 2001, when two airplanes flew into them. Entirely too many people lost loved ones, and entirely too many people were injured. This was a sad day for the citizens of New York City, as well as for everyone in the United States of America, and the tragedy touched people from countries all over the world.

On September 11, 2011, the 10th Anniversary of 9/11, a memorial for the victims was open for the first time to family members of the victims, and the next day, it opened to members of the general public. The memorial, Reflecting Absence, includes two huge water falls and reflecting pools where the towers once stood, and the names of the victims are engraved on bronze panels which line the pools. A museum will open at the site in the spring of 2014 and a single tower called Freedom Tower is under construction and is expected be completed at the end of 2013. It reached it final height of 1776 feet in May of 2013. Since this tragedy occurred, many people have visited daily to pay their respects.


Sometimes it's not so easy to go on so we will take a little pause before continuing . . . . Afterwards, maybe we could visit one of New York City's museums . . . .

~~~~~

By now, It may not come as a surprise to you that New York City is a major cultural center! Let's see what else the city has to offer! Inside the Metropolitan Museum of Art,

in addition to the paintings, sculptures and drawings, is an ancient Egyptian temple called the Temple of Dendur! Can you imagine? An entire Egyptian temple inside the museum! We could visit the Guggenheim

and the Museum of Modern Art,

too, if you were here!

And, we should not forget about the Lincoln Center for the Performing Arts

either! We could go to the Metropolitan Opera

or to the New York Philharmonic, but we must be really quiet! Sometimes, however, they offer special performances for children! Take a look at the New York Philharmonic's

website for kids! It's really cool! Of course, we could also visit the New York City Ballet.

That would keep us on our toes!





Or, we could go to a Broadway show in Times Square.

Should I buy some tickets?




Times Square

This photo is in the public domain worldwide
courtesy of Ibagli.
Wikimedia Commons



Maybe you would like to go to a ball game, too! Like everything else in New York City, there is quite a choice! There are 10 major teams: the Yankees and the Mets for baseball fans, the Knicks and Liberty for basketball fans, the Rangers, and the Islanders for Hockey fans, the Giants and the Jets for football fans, and the Metrostars, and Magic for soccer fans. Ask a grownup to help you find your favorite here.

Are you tired yet? The Bronx Zoo is very well known, and I am sure you would learn a lot too! You will find informative programs and tours here.

. . . . Finally, I'm enjoying my visit to New York City, but it would be a lot more fun if you were here, too!

Love Oma,
This is the New York City skyline on an early morning!

Manhattanon an early morning – (AngMoKio)
http://creativecommons.org/licenses/by-sa/2.5/deed.en
Wikimedia Commons

~~~

Help SOMEONE you know learn about this famous place!
Click Klick on the gamecard postcard below to place your order,
and Heckery Dekkery Dot will send it on its way to help YOU get the travel game underway!


It's FUN! And, it's EDUCATIONAL, too!

Who will win?

Everyone wins when children learn more about the world around them!


~~~

Thank You:
http://www.britannica.com
http://kids.britannica.com
Britannica andBritannica Online for Kids are excellent resources for information.

http://unabridged.merriam-webster.com

A special thank you goes to my daughters Alicia and Janella for their valuable input and to my husband Barthold, to Eveline, and to the Damen der Englisch-Gruppe in Marburg for their help with the German translations.


Also, thank you Diane Krasinski, the best New York City tour guide ever!

~~~

All photos on this site were taken by me on my travels unless otherwise indicated.

~~~
Please ask a parent or another grownup to travel with you whenever you visit on-line sites.
It's much more fun than traveling alone!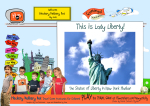 Zoom

New York, New York - (1) Lady Liberty (English)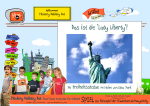 Zoom

New York, New York - (2) Lady Liberty (German)